Recently, I caved and bought the complete boxset of Friends because why not?! Growing up, I remember sitting in on a Thursday/Friday night, eating pizza while my parents drank Jacob's Creek (because that sponsored Friends at the time, you'll remember) and it was one of my absolute favourites. Re-watching it now, in my twenties - well, it's a whole new world.
DID YOU KNOW (!) Season 1, Ross refers to himself as 26. There's a scene at the end of "The One Where Nana Dies Twice" where Monica says something along the lines of "around our age, 24-25"
I'm sorry, what? Stop the world, I want to get off. The characters of Friends are early twenties at the beginning of Season 1. Here I am, a 23 year old, sitting in my PJs with panda eyes and two-days-since-I-last-washed-it hair wondering what I'm doing with my life. It got me thinking. I have soe many unrealistic expectations from my childhood and it's kinda, mostly all Friends fault.
They all seem happy in their career choices
Not a day goes by when I don't think about "what should be when I grow up?" - yet Ross is 26 and has a Ph. D AND is working in a field he loves and enjoys. I don't know, call me cynical but that just doesn't happen now, right? This is a very big deal to me. Monica has managed to get herself some kind of chef-ish job working in a kitchen and Joey is performing in plays and getting signed to an agent in less than 6 episodes in. Funnily enough, it feels like the only person I can relate to is Rachel who is surviving on pennies from her waitressing job.
I know later down the line Chandler will switch his job and Rachel will go in to a career she actually wants but right now, looking just at the first season and where they are in their lives and where I am in mine, it makes me feel like a child.
They always spend time together
Yeah, like people do, because friends do that. I don't know how they do it though, presumably they all work full time - and for me, working full time and trying to organise a time to meet up with pals just for a quick coffee is the hardest thing to do. When are you free? Well I'm not free then but I finish work at 5 if you can do after? Oh, you've got another thing? We'll just try the week after, yeah? All I'm saying, it feels like an alien concept to spend so much time, we're talking every day, every evening, with friends.
They hang out in a coffee house, regularly
This really grinds on me, even in other shows like How I Met Your Mother with their regular booth in their regular bar. I don't have friends that want to go to the same place all the time. I have two types of friends: let's just hang out at your house or mine or let's go somewhere else/ somewhere new. I definitely don't spend as much time as the characters of Friends do in Central Perk in any place unless I live there or I'm paid to be there.
They have 6 friends from all walks of life
No way. I have a group of friends that are from school*, a group from work** and even a group of medics*** - but would I bring them together in a rag tag group of friends? No. Would I hang out with my brother all the time? Not all the time, but I mean, would he want to hang out with me either? In reality, mixing friend groups has only ever ended awkwardly for me. Again, call me cynical, but I think Phoebe probably wouldn't last long in a friend group like that what with no history and living so far from the group, Joey would probably be a recluse and live in his room considering the other 4 are basically childhood friends and how do you get in on that? And, if it were me, and Rachel ran in to the coffee house in bridesgown and all that - I wouldn't invite her to live with me. I'd probably pat her shoulder, be a little bit of comfort in this difficult time and be like well I've gotta go, nice catching up, see you never.
Also, who has that many friends? How would you possibly be able to decide what to watch on Netflix? Or agree on where to go to eat or on an activity?
** sort of, at a push, I'd say we're friends. Definitely 1.
*** let's be hoenst, these are my boyfriend's friends that I have managed to infiltrate my way in to getting first hand invites to some events.
Who can afford an apartment like this living alone at 24?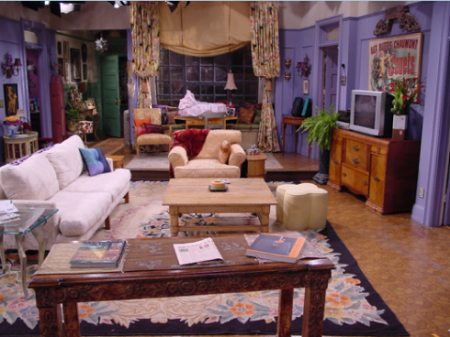 Spacious, open plan, two bedrooms, balcony, presumably central location because Joey counted less than 100 steps to Central Perk. Monica supposedly lives here alone before Rachel moves in during the first episode. How? How much? Can someone please tell me the estate agents / landlord because I would like to make an enquiry.
I vaguely remember in a later episode that Monica's grandmother lived in this apartment too, at some point, like before Monica (?) - but Monica refers to paying rent so I'm presuming she doesn't own it outright. If anyone can please explain this to me I'd appreciate it very much because let's be honest, we're relying on my memory and it's not the sharpest.
Surely this should be a comfort. In the next 10 years these guys get married, change careers, have kids and at the end, their lives are very different from those crazy kids at the start. But also, when I was a kid I wanted 5 friends and to be pretty much exactly like this bunch (dibbs on being Phoebe or Chandler) and I don't (which is the saddest realisation, don't tell 12 year old me). There's a scary few years to come for me as I realise I'm about to be the same age as these guys and I am in no way close to being that adult-like. Somebody hold me.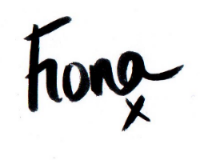 Follow North East Nerd to catch the latest posts:
Twitter | YouTube | Bloglovin' | Instagram | Facebook | Pinterest | Etsy

I try and reply to every comment left. If I don't, know I do see and appreciate the crap out of each and every one
Alternatively, you can reach me on all the social media options above, below, E V E R Y W H E R E
Don't forget to enter my #FionasFive Giveaway
(Ending 19/02/2016)