I wanted to list off another bunch of book reviews and today I will be looking at a variety of Young Adult books. Some of these are from my "books-I-probably-should-have-read-like-comma-ten-years-ago" list, but some are also brand new that I was so psyched about I had to write a little review. (Looking at the covers now, this is such a weird mix of books, just go with it)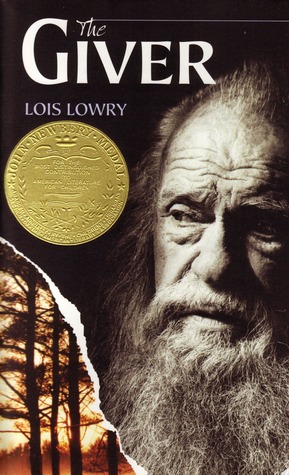 Remix by Non Pratt*
Published 2015. Read May 13th 2015, 5 stars.
"Kaz is still reeling from being dumped by the love of her life... Ruby is bored of hearing about it. Time to change the record. Three days. Two best mates. One music festival. Zero chance of everything working out."
I got excited about this novel when I heard that
Darran
had read it in one day - he reads and reviews some seriously good books, if you're ever stuck on what to read next, look to him. I can see why it became a favourite of his novels for 2014 because it is on the top of my favourites list now too.
I can't believe this novel only happens over the time frame of a weekend. On first opening the book I didn't think I'd like the characters all too much but as time goes on and I learnt more about Kaz and Ruby, our main characters which the perspective switches between, and their lives I just wanted to spend all my time in the book. The greatest thing about switching the narrative between characters is all the knowledge you have. I spent half the book questioning
when
someone was going to reveal their secret and truth instead of trying to guess what the secrets were. I liked having all this knowledge about the characters and watching as events spiraled.
I'm sad that it ended, not because it was bad (it was quite the opposite in fact), I'm sad because of the things I won't see. I'm gonna keep it spoiler free like normal, but there are some things you just presume are going to happen - you know,
after
the end, predicting what happens next to the characters - but I want to read about them. URGH. I decided I absolutely love Non Pratt's writing style and have since bought her other novel, Trouble, which I had been putting off because of financial reasons and devoured last weekend. Write another one, okay Non Pratt? Because I am eagerly awaiting. Remix is a very excellent book if you're looking for a new contemporary novel about music and friendship. This title is released
June 4th 2015
! GO READ IT ASAP.
Red Queen by Victoria Aveyard
Published 2015. Read April 2nd 2015, 4 stars.
"This is a world divided by blood – red or silver. The poverty-stricken Reds are commoners, living in the shadow of the Silvers, elite warriors with god-like powers. To Mare Barrow, a 17-year-old Red girl from the Stilts, it looks like nothing will ever change. Then Mare finds herself working at the Silver palace, in the midst of those she hates the most. She quickly discovers that, despite her red blood, she possesses a deadly power of her own. One that threatens to destroy Silver control."
This book is described as "The Next Hunger Games" and I am a sucker for any book described as that (see,
Wool by Hugh Howey
, and, I don't know, every other new dystopian fiction released after The Hunger Games got popular). This one has a lot of mixed reviews based on whether or not a person has
Red Rising
- which I have not (but scroll down on
Red Queen's Goodreads page
and you can see a lot of reviews giving comparisons) - and I'm sure I've spoke to someone who compared this to one of the Trudi Canavan's trilogies too. HOWEVER, to me this is a Young Adult novel, whereas all of the others I've mentioned you'd find it a sci-fi/fantasy section. For me, this was accessible, interesting and intense. There is a bit of a love triangle, but because this is set in a world ruled by a monarch rather than a president, its a more elegant romance that I didn't get sick of because when it comes to Kings, Queens, Princesses and Princes I find it all whimsical. There are some diabolical characters and unexpecting twists, a really good read if you want something new and dystopian, and I don't know how I didn't mention them yet -
there are superhuman mutant types with POWERS
. It makes the fighting way more exciting than bullets and bombs.
The Perks of Being a Wallflower by Stephen Chbosky
Published 1999. Read April 8th 2015, 5 stars.
"Charlie is a freshman. And while he's not the biggest geek in the school, he is by no means popular. Shy, introspective, intelligent beyond his years yet socially awkward, he is a wallflower, caught between trying to live his life and trying to run from it. Charlie is attempting to navigate his way through uncharted territory: the world of first dates and mixed tapes, family dramas and new friends; the world of sex, drugs, and The Rocky Horror Picture Show, when all one requires is that perfect song on that perfect drive to feel infinite."
This book is as old as my sister and it has taken me 16 years to read it. Having read it, I think this might be my favourite book, maybe of all time. There's something about Charlie that makes him so real and likable and not to mention how unbelievable the story is. Such a big twist for me, I think I just gasped and constantly said things like "no" because I just couldn't believe what I was reading. So good! I watched the film after and I don't think it captured the beauty of the book (but I mean, do they ever) but it was still an awesome film. Yeah. I love Perks. If this is one you've been putting off for a while, please go and read it. Perfect YA literature, and just literature in general. As close to a perfect book I think I'll find.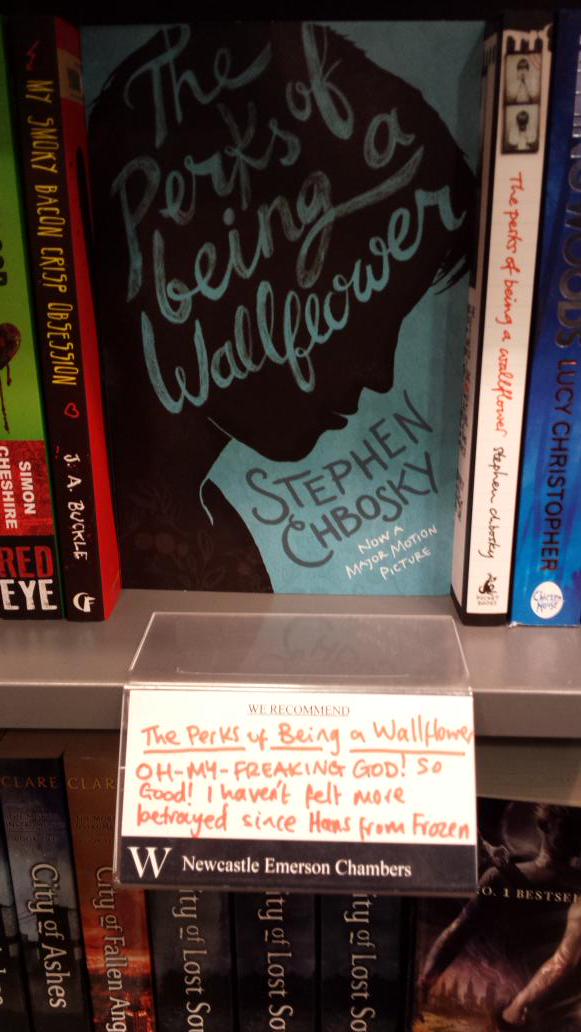 Picture nabbed from @lauren_heslop but this is my review so I feel it's fine to use this, right?
In case you can't see it well, it reads:
"The Perks of Being a Wallflower
OH-MY-FREAKING-GOD! So Good! I haven't felt more betrayed since Hans from Frozen"
The Giver by Lois Lowry
Published 1993. Read October 19th 2014, 3 stars.


"Jonas's world is perfect. Everything is under control. There is no war or fear or pain. There are no choices. Every person is assigned a role in the Community. When Jonas turns twelve, he is singled out to receive special training from The Giver. The Giver alone holds the memories of the true pain and pleasure of life. Now, it is time for Jonas to receive the truth. There is no turning back."
This is another one of those I was putting off (for something like, 22 years). A really interesting one if you're a fan of dystopia,. I love dysopian novels and although this one is lacking in action (and bloody revolutions and sticking it to the man) it's thought provoking as well a horrifying and scary world. I prefer contemporary novels when it comes to dystopia, but this is still one you should consider reading if you're a fan. This is part of a quartet and I am yet to pick up another novel by Lowry just because I'm getting distracted by newer shinier books, but The Giver is solid (and, I imagine, the others in the series are too). This book also has an interesting history, buckle up kids because
this book was banned in America
because of the ideas of society. Have to love a book that makes waves in the world around us.
This is more of a one that makes you ask big questions, but it is still an easy read to enjoy.

Twitter | Bloglovin' | Instagram | Facebook | Pinterest
*I received the free proof of Remix