Recently, I was browsing on the old Etsy machine looking for birthday cards when I bought a brilliant Game of Thrones themed card from
SuperCoolCards
: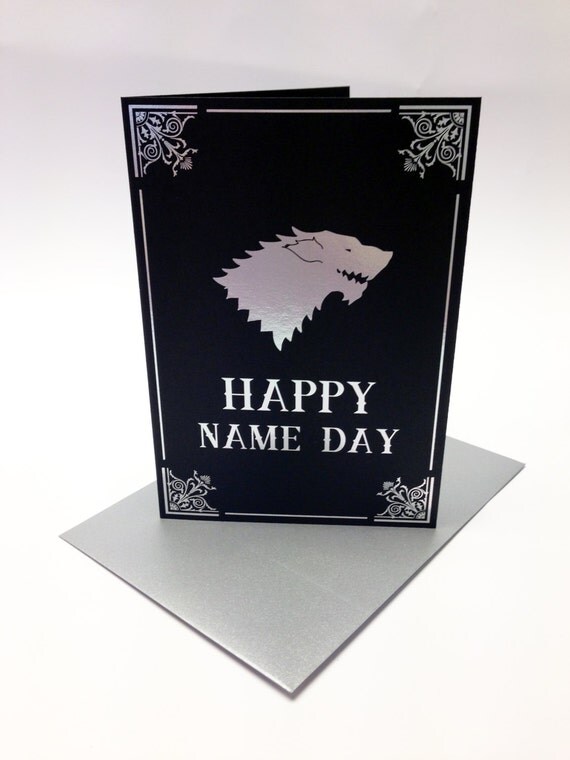 It was perfect for the upcoming birthday so I bought it! I was happy with my purchase and thought nothing more of it until it arrived in the post the very next day!! I couldn't believe how quick it arrived, I'd ordered it at just after 10am on the 20th October and then the postman put it in my letterbox on the 21st October at around the same time. Sure, we should give some credit to the Post Office for their part in the delivery but the reason it got to me so quick is because Lucy, the owner, tries her hardest to ship orders the very same day of purchase.


The card is so beautiful, and I know beautiful is a word to describe sunsets and stain glass windows but for stationary nerds like myself a hand made card can be it too. The image above is from the web store and I swear it looks exactly like that, in fact here is my card:
I've tried my best to capture the shiny quality of the details here but it's a tricky thing. The silver is not reflective it just captures the light and makes it look elegant amd fancy, and it is all the silver too - text, border,details and wolf. I know what you're thinking, black card - how can I possibly write my message? Don't worry muchacho:
There is a generous white space on the inside to write all the birthday messages you'll need. On the back there is only a small amount of text which simply says:
And it doesn't just stop at a Stark sigil wishing you a Happy Name Day (although they are the best) - you can shoose from so many more: Baratheon, Tyrell, Lannister and more. Move away from Game of Thrones and you'll find Harry Potter, Lord of The Rings, Doctor Who... and it's not just birthday cards either, there are cards for all occasions (Valentine's, Christmas) and even prints and some magnets. Guys, it's a nerd haven and all I paid for the card was £1.80 (not including postage and packaging) which is cheaper than a nice last minute card from somewhere in town.
I was so impressed with the store I got in touch with Lucy and asked if it would be okay to blog about it. Of course she said yes, and is even cool with guesting so here is Lucy of SuperCoolCards to tell us more:
_________________________________________________________
Firstly, I just wanted to say thank you to Fiona for the wonderful review and for letting me hijack her blog for the day!
I opened my shop,
Super Cool Cards
, and it's sister store
Power Jam
(selling roller derby cards and gifts), on Etsy in December 2013, and I had no idea when I did just how much fun running my own Etsy store would be. For my day job I work for a company that sells foiling machines, and my boss used to let borrow the equipment during my lunch hour to make cards for friends and family. It wasn't until I started experimenting with black card that I felt I'd found something unique enough, and of a good enough quality, to sell. I promptly bought my own machine and set up shop!
I only make cards inspired by the things I obsess over myself so you know, if you purchase anything from me, that it's truly made with love. I tend to go through phases when it comes to making new things, whatever my latest obsession is, it'll show up in my cards!
The newest additions to my store are Christmas card sets inspired by TV and film, they come in sets of 5 for £5.00, or you can mix and match 5 different cards into a set of your own. For the future I'm planning more of the same, but am also looking into gift wrap and tags, coasters and maybe even mugs – watch this space!
I ship all over the world, and I try to keep postage costs to an absolute minimum. Whenever possible I dispatch my orders out on the same day they're placed, I can't always do this but I do try my best! Postage inside of the UK takes 1-2 business days from the date of dispatch, and international orders take 5-7 business days. I also take custom orders, so if there's something special you're after that you can't find on my shop, do get in touch!
_________________________________________________________
Super huge thanks to Lucy for working with me on this post. You'll notice as well that I have a new supporter section on my sidebar (for sponsors, friends, affiliates, allies, comrades etc) featuring the wonderful
SuperCoolCards
store which will be there until the new year! (The current banner is just a temporary measure for now until Lucy makes something 100 times cooler)

Twitter
|
Bloglovin'
|
Instagram
|
Facebook
Collaboration post