We noticed the
Chocolate House
when wandering around Kendal (when we visted for
MintFest
last month) and you can't not visit somewhere with the name
The Chocolate House
, right? It goes against everything I believe in.
"In our Shop, an Aladdin's Cave of chocolate awaits you, with hundreds of handmade chocolates, unusual chocolate gift ideas and hand ribboned gift boxes. Our Restaurant serves 16 speciality chocolate drinks, handmade chocolate gateaux from our own secret recipes and light snacks." (Website)
Although we didn't buy anything from the shop it was brilliant to have a browse and imagine what you would get for people if you wanted to buy them gifts. I was thinking of the selection of chocolates I would pick for myself to try in all honesty. I can't remember them exactly now but there were some amazing sounding flavours; spicy sounding, sweet sounding, nutty - the lot.
We visited the restaurant / cafe for a snack and hot chocolate which I didn't take photographs of unfortunately. When visiting MintFest I just hadn't been thinking about blogging the trip so there is a lack of photographs of what we did in Kendal that weekend. I remember what we ordered though (how could I forget?), Matthew had the Highway Man hot chocolate which was caramel flavoured and so much better than my plain milk hot chocolate named The King's Delight, although that was still delicious. If you do visit the Chocolate House be adventurous! There were so many flavours I would have tried if I had been brave enough (the a fore mentioned caramel, and there was an almond one that sounded nice, one with 5 spices, rose, dark chocolate... the list goes on). To accompany this I also got the 1675 ice cream which was two scoops of creamy ice cream, whipped cream and melted chocolate to top it off. The chocolate drizzled over was the best chocolate I think I've ever tasted.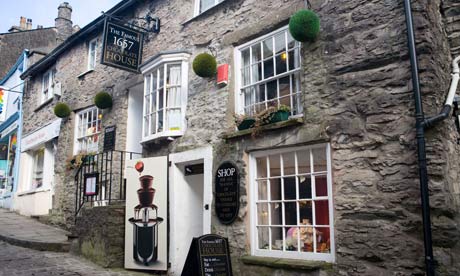 The Chocolate House building has been there since the 1630's (!) but inside it does not feel tired or dated, rather quaint actually. It hasn't been a cafe all that time either: it's been a private home, a travel agents and many other bizarre things too. Next time I visit Kendal I'll be going back for that ice cream, a more adventurous hot chocolate and a goody bag of treats from the shop.

This post featured in the #OutAndAbout linky